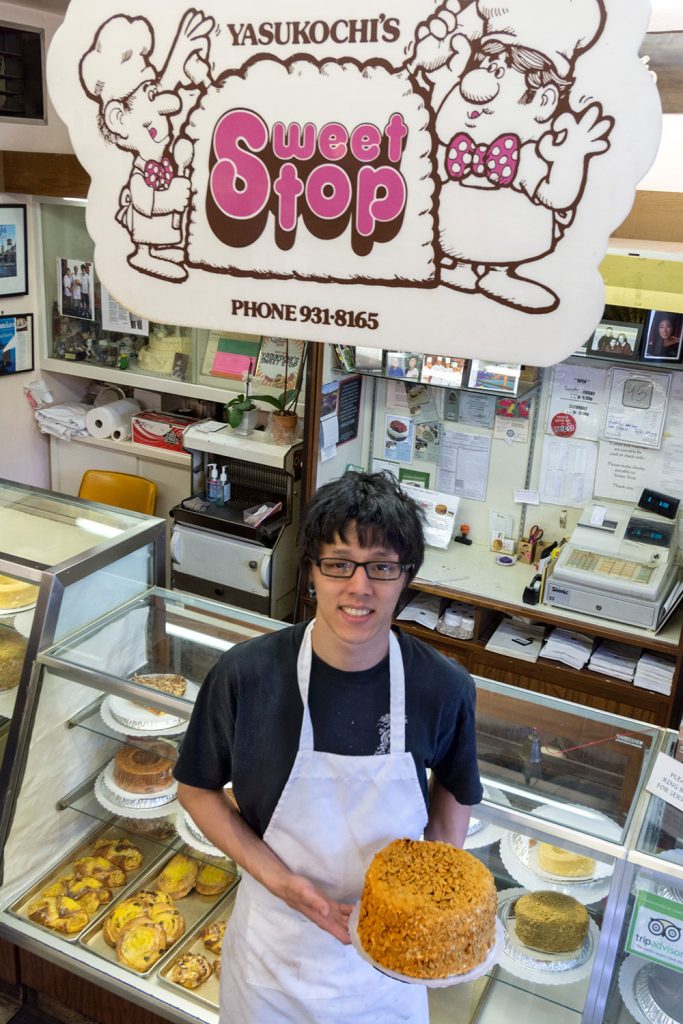 By FRAN MORELAND JOHNS
When the nominations for this year's James Beard Awards were announced in late January, there was a local surprise. Among the semifinalists for Outstanding Bakery: Yasukochi's Sweet Stop, a small shop in the corner of a Japantown grocery store most noted for keeping alive one of the city's most beloved creations, the Coffee Crunch Cake.
The results will be in soon: Finalists will be announced on March 29, and winners unveiled at a ceremony in Chicago on June 5.
For chef-owner Kenji Yick, being shortlisted for the Beard award — the Oscars of the food world — came as surprising, and heartwarming, post-pandemic news.
Yick, a graduate of the French Culinary Institute, is the grandson of Sweet Stop founders Moses and Hatsy Yasukochi, who married in 1964 and opened the Sweet Stop 10 years later. Moses learned to bake the Coffee Crunch Cake, made famous at Blum's on Union Square, from an employee who'd worked there.
Yick grew up "in and out of the bakery" while visiting his grandparents. By the time he decided to pursue a career in the food world and finished his culinary training, his grandfather was having to withdraw from the long hours of baking. So Yick went to work helping his grandmother.
Hatsuye (Hatsy) Yasukochi, was known as the "smile of the bakery" and considered by many the beating heart of Japantown. There were few in the community she didn't know and love, and the sentiment was mutual. She died in 2020, an early victim of Covid, after a bout with cancer. When Moses lost his wife, he moved to an assisted living community in San Mateo near his children and grandchildren.
Many feared the bakery might not survive. But the Yasukochis' grandson vowed to keep it going, and he has — and now the family legacy he carries on has been singled out for national recognition.
"We shut down for three months early in the pandemic," he says, "and reopened for four days a week rather than five." His grandmother's absence in the bakery and the neighborhood is still widely felt. "The hardest part is that there now are just the two of us": Yick and longtime front corner employee Debbie Ishida. "How long have you been here, Debbie?" he asks. "I don't remember," she responds. "A very long time."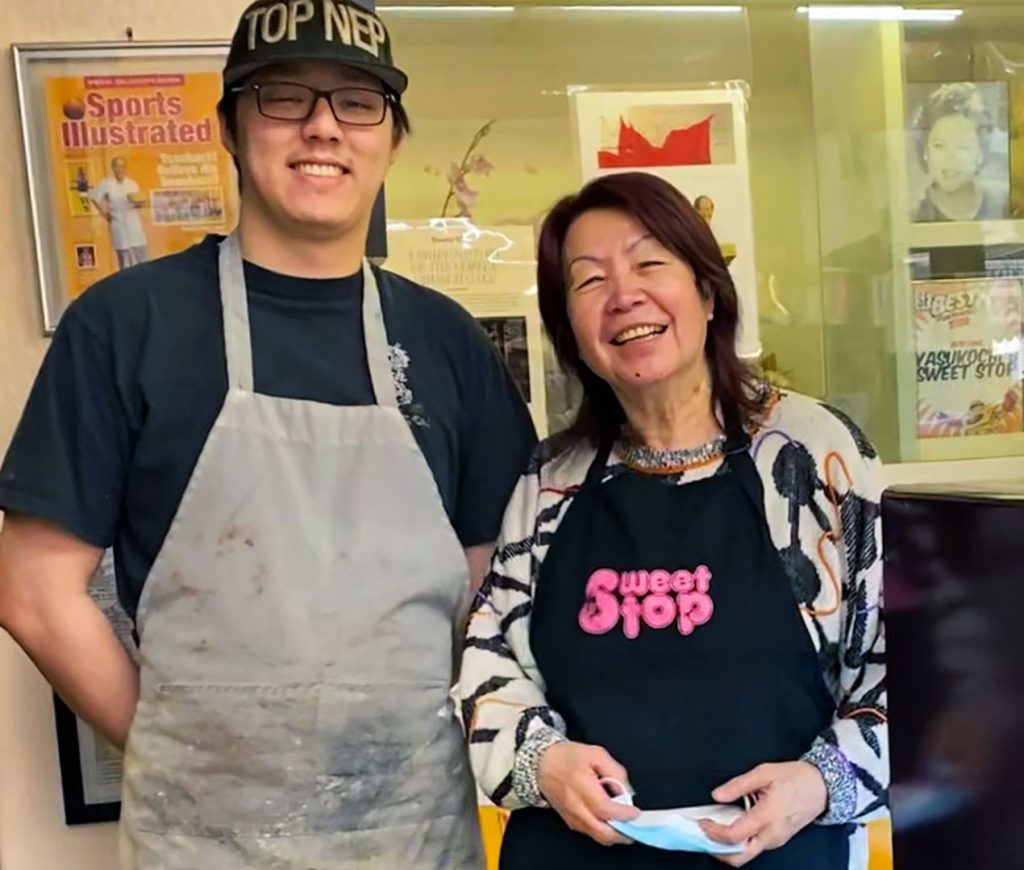 The Sweet Stop is still humming along, much as it has since Yick's grandparents founded it nearly 50 years ago. He says the pandemic made clear the faithfulness of the shop's core customers, who never abandoned their taste for cakes, pies and pastries from the Sweet Stop. But now the cakes — including the famous Coffee Crunch Cake — are only baked to order. "And we had to discontinue the Danish," Yick says, "largely because we were designating it to Kimochi, and they had to discontinue their free meals. But we hope to bring it back."
Tucked away inside the Super Mira Market on the corner of Sutter and Buchanan, Yasuchoci's Sweet Stop is open Wednesday through Saturday from 10 a.m. until 4 p.m. But you might want to order ahead, especially if you want a Coffee Crunch Cake.
EARLIER:
Filed under: Food, Drink & Lodging, Landmarks | Leave a Comment »